Providing Professional Energy Services to Rochester, MN
and the Surrounding Area Since 2007
XRG Concepts, LLC provides energy ratings, energy auditing, and consulting services for the residential and commercial building industry.  XRG Concepts, LLC associates work with builders, designers, architects, tradesmen, utilities, city inspectors, and building owners to provide the most cost-effective solutions to reduce operating costs, increase quality and durability, and improve building occupants' safety, comfort, and health.
XRG Concepts was founded to fulfill a need for a residential energy analysis and testing company in Southern MN.  Over the last eight-plus years, XRG Concepts has grown to provide services that meet the demands and push the limits of the fast-changing building industry.  With increased awareness of the importance of sustainable building and a passion and enthusiasm for building science in the residential building sector, XRG Concepts wants to do all it can to help improve construction practices.  XRG Concepts is here to provide Southern MN, Northern IA, and Western WI with a recognizable name for all forms of sustainable building-related services and has been a success – as measured by the number of homes being influenced through auditing and energy rating.
Personalized consulting will save you money over the lifetime of your home through our exceptional knowledge of the residential building industry — Turning any home into an energy and cost-efficient structure.
Priding ourselves in thorough and skilled verification assessments, we take a detail-oriented approach to delivering Energy Star, LEED, and Zero Energy Ready to homes throughout the region.
Green Building Certification
XRG Concepts works to exceed your expectations. In addition to receiving an energy score, we are able to provide design assistance, HVAC sizing calculations, and/or construction crew training.
XRG Concepts prides itself in providing homeowners with the overlooked yet arguably most important home improvement services.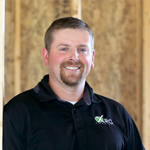 Brandon Vagt is a RESNET certified HERS Rater, MN Residential Energy Auditor, holds the LEED AP Homes designation and is a LEED for Homes Green Rater. Brandon has experience in commercial and multifamily residential construction management with a Bachelor's of Science in Construction Management from the University of Wisconsin – Stout (2005). Brandon began as a RESNET certified Field Inspector in April of 2010 and became a partner of XRG Concepts in January of 2011. Brandon acts in an operations/business development role for XRG Concepts in addition to consulting and field verification/testing.
Nate Garmers is a HERS Modeler at XRG Concepts. Nate graduated from Dakota County Technical College as an honor student in May of 2017 with an A.A.S. degree in Architectural Technology. Since starting at XRG Concepts in April of 2016 Nate has been drawing 3D models of new construction homes using SketchUp, analyzing and processing data obtained in new home testing and inspections performed by XRG Concepts' certified HERS Raters as well as performing code compliance blower door tests for new construction homes.
Matt joined the XRG team in April of 2019 as a Residential Energy Rater, and is a RESNET certified field inspector. Matt graduated from Western Technical College with a degree in Building Science & Energy Management.
Jett Sorensen
Rating Field Inspector
Jett joined the XRG team in August of 2021.  He is a RESNET certified Rating Field Inspector.  
I hired XRG to do the HERS ratings on our homes. What I didn't know I was getting was another set of eyes looking at how we were building our homes. Brandon Vagt and his crew have been instrumental in how much more efficient our homes have become. He is very knowledgeable in energy efficiency and has helped me achieve a much tighter home, truly benefiting our customers! Our HERS ratings have gone down and blower door tests are improving constantly! Thank you XRG for your watchful eye and professionalism on my job sites!
I am grateful that Brandon from XRG Concepts contacted me to test my homes. Since working with Brandon, I have been able to drop my HERS ratings, increase the efficiency of my homes, and boost my sales.
I have had the pleasure of working with XRG Concepts since 2011. Their knowledge on energy efficiency and the process to improve the insulation quality has helped my houses perform at a very high level. They are organized, knowledgeable, professional, and great to work with. I would recommend them to anyone that wants to improve the performance of their house.
XRG has been integral in meeting Habitat for Humanity of Minnesota's housing health and energy efficiency goals. They provide knowledgeable input from design through construction to final testing, they are responsive to shifts in project details, and they work cohesively with the several managers, supervisors and subcontractors found across the many Habitat job sites.
XRG Concepts staff were critical to helping us understand how to meet our energy goals. Prior to having them on board we felt like our goals were more of a wish and a hope. XRG Concepts helped us by offering an expert eye on energy details during construction, measuring air infiltration, assessing energy burden and providing us with the documentation that will serve as the foundation of our home performance measurements going forward. The build process was not an easy one and XRG's professional assistance was a steadying force for us.